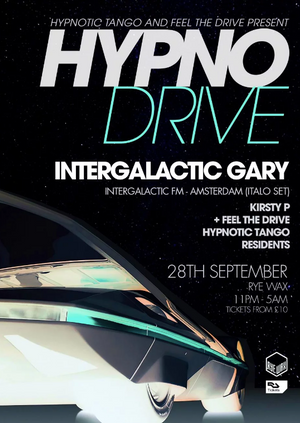 Hypnodrive with Intergalactic Gary and Kirsty P
28th Sep 2018 11pm - 5am
Add to Calendar
Event Details
East meets South as Hypnotic Tango and Feel The Drive join forces to present the one and only...
INTERGALACTIC GARY:
Intergalactic Gary is a man that needs no introduction. He's been doing the business for over 30 years and sets at Panorama Bar, Dimensions and Dekmantel (to name a few) have helped to cement his legendary status. We're thrilled to announce that, for one night only, Intergalactic Gary has agreed to dip into his enviable Italo and synth collection to take us on a 3-hour cosmic journey. In a tiny venue. In summary: Do. Not. Snooze.
https://www.youtube.com/watch?v=7B7Y-6U0q0g
alongside
KIRSTY P:
Dark beats, apocalyptic rhythms and heavy vibrations – with flawless mixing that takes your soul through an interstellar journey of techno, synth and much more. A truly mesmerising dancefloor experience every time. Part of the DJ collective P.I.D.R and fresh from playing Sameheads in Berlin, Kirsty is one of our favourite DJs on the scene.
https://soundcloud.com/kirsty-p
plus HYPNOTIC TANGO and FEEL THE DRIVE DJs